#CurrentlyJamming - My Apology to Fantasia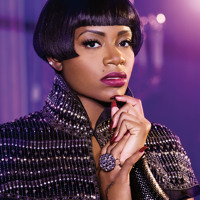 Fantasia, I'm sorry boo! I am so sorry that I've slept on you for so long. Well let me clarify. I've loved your sound since your American Idol days. You know you killed Summertime! But, somehow I just never wholeheartedly was checking for you. I think part of it stems from the fact your music and image isn't constantly being shoved down our throats, so you (to me) got overlooked over the years. No shade, the
TALENT
was always there but if a potential fan doesn't frequent B.E.T. or R&B radio regularly, a lot of current R&B in the past five years has been overlooked. It is like you were always there, just kinda' in the background. Not sure why, though!
To me, over the past few years R&B seemed like a dying genre. The most popular acts today are clearly Pop/Dance/Club artists with hints of their musical roots in R&B. Lately, I've made a point to seek out artists and realized R&B is dying, its just not getting as much exposure.
People are still releasing new music, sometimes you just have to go look for it. But this new album, ma'am! I just want to let you know (I'm late but...) I'm rocking with you girl! Can I call you "
Tasia
"? I can't make it to the
TGT (Tyrese, Ginuwine and Tank) concert
(go get tickets!) featuring you in NC on July 5 but please believe, I'd like to be there!
I just wanted to share with y'all what
I'm
#CurrentlyJamming
(I dare you to click it) to!
Take a listen, it features Kelly (you betta' say Ms. in front of her name) Rowland &
SupaDupaFlyy
herself Missy Elliot (oh, how I've missed this). That feature on J. Cole first album seems like ages ago! So go ahead, click below, you're sure to love it too!
Talk to you later
Lovelies
!!!